Not long ago I was checking in materials at the library and ran across a documentary called
Grey
Gardens
.

The cover wasn't particularly catchy but the subject of Jackie Kennedy's eccentric cousin living in the
Hamptons
caught my attention.

The DVD was on reserve for someone else so I added my name to the reserve list, and when one of my co-workers brought it to me last week, she wanted to tell me how unique and arresting she had found it.

I watched it Friday night when Ian went to play cards – there's a poker game in this valley.

I made him watch it with me again on Saturday and would have watched it a third time but it was already on reserve for someone else.
Hilton Als, a reviewer for the New Yorker writes, "What draws the viewer in are the stories around what we cannot see: Miss Beale lamenting the loss of a scarf. The suitors turned away. Mrs. Beale's infatuation with a man whose minor musical talent is better remembered than heard. Money spent. The dream of New York on summer nights filled with jackhammers and the moon. Regrets and recriminations: the language of lovers, the fabric of family life."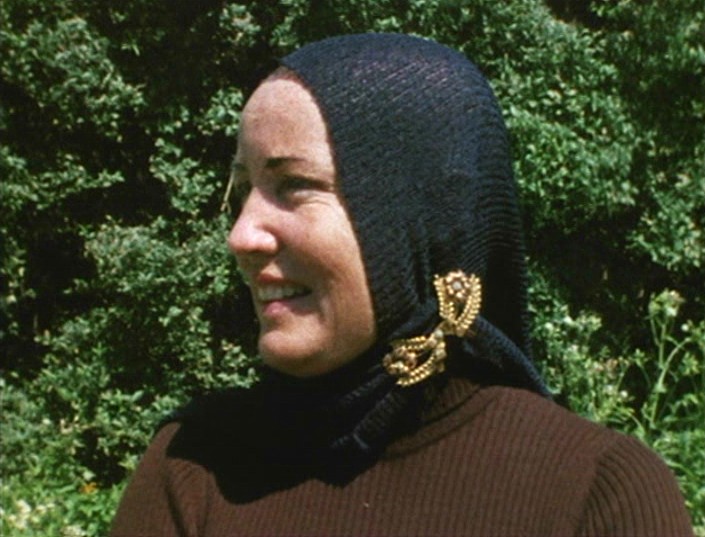 Not only did I watch it, I watched all the supplementary material and found myself completely captivated by Little Edie, mentally unstable but absolutely charming.

And her clothes!

Two of the men interviewed were designers who had created lines of clothes influenced by the way she put clothes – make that costumes – and colors together. And then there's the headcoverings and accompanying jewelry.


The Maylses brothers made the documentary in 1975, so it has the grainy quality of film and you can hear the clicking of the projector in the background.

I
Googled
Gray
Gardens
and found that it has it's own webside www.greygardens.com – a fan site and homage.



It was written into a musical which opened Off-Broadway in October and On Broadway at the Walter Kerr Theatre in November.
It is scheduled to be filmed later this year, starring Drew Barrymore and Jessica Lange.
Finally, I looked up the film in Wikipedia and learned enough factoids that I have decided to order the double disk set from Amazon.
It will go in my small movie collection, next to my other fan movies like Young Frankenstein and So I Married an Axe Murderer
.
I find myself already repeating some of the lines – I'm a fan! I look forward to seeing both the play and the movie, because after all, I am a fan, but as a fan, I will remain loyal to the orig.